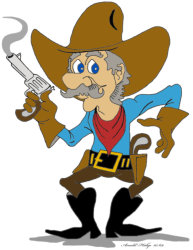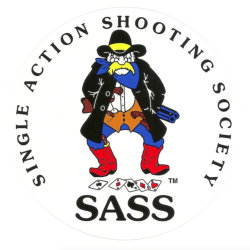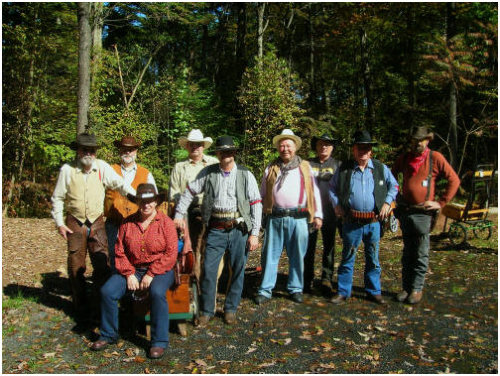 The Mainville Marauders is a group formed within the Mainville Sportsman Club to establish Cowboy Action Shooting and to take part in the fun of using the firearms of the American Frontier in competition events likened to those of the old west.
Cowboy Action Shooting is a multifaceted amateur shooting sport in which contestants compete with firearms typical of those used in the taming of the Old West: single action revolvers lever action rifles, and side by side double barreled pre-1989 pump, or lever action shotguns. The shooting competition is staged in a unique, characterized 'Old West" style.
Contestants shoot in several one-to six-gun stages (courses of fire) In which they engage reactive steel and cardboard silhouette.
In all cases we are limited to lead bullets fired with reduced loads We shoot at steel targets of various shapes Most are square plates and they are set at distances from 10 to 25 yards.
Cowboy Action Shooting Events are on Every Second Sunday of each month scheduled.
The registration fee is $10.00 and scores are kept based on a combination of time and accuracy per the SASS Premier Scoring System.
A safely meeting is held at 9:30 before the shooting begins at 10:00 am. We have a drawing for one door prize and oftentimes two. Coffee and
Donuts are served in the morning We break for lunch at about noon. We often have hoagies for sale or you can bring your own lunch.
Our Cowboy Shoots are open events and we invite all who have an interest in this type of shooting to come and take part in the fun You don't need to be a member of the club. Spend a morning/afternoon with us enjoy the companionship of fellow Cowboy or Cowgirl shooters and leave your worries at home. Cowboy Action meetings are held at the Mainville Sportsman Club at 7:00 pm on the Thursday before the Sunday shoot. All Cowboy Action Shooters and Club Members are welcome to attend and share their friendly input. If meals are included the Chow Line starts around 5:45 pm. Please notify Ed Bergen to have yourself added to the Email list for the Grub Menu and where the Chuck Wagon will be at. Be sure to attend the meetings and surely you will hear some of the tallest tails of the North, South, East and West that you ever heard to pass on to the youngins!
Download PDF Scores Below
Perfect day and a good group of shooters for the Mother's Day Cowboy Shoot. Gutshoot Dave took the overall win with Miflin kid Shootin A Clean Match, great shootin Kid ! We had 4 new shooters and welcomed them with a variety of shootin irons to use. Monster Zero, Red Revolver, Stone Cold and Clover Chloe had a blast slingin lead down range. Thank God all pitched in and sold some Mules en Sheep so we had enough Ammo to go around. Also Thank You to ALL that pitched in with the Coaching the New Shooters!
President
Ed Bergen
edbergen@hotmail.com
Vice President
Ted Klebon
tklebon@ptd.net
Secretary
Randy Hunsinger
brhunsinger@verizon.net
Treasurer
Frank Burke
shooterjfb@hotmaii.com