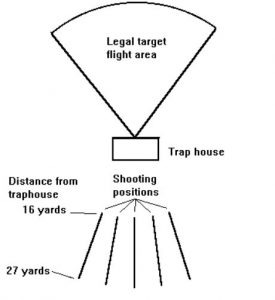 The Mainville Sportsmen's Club Trap range is open every Every Wednesday at 5:00 p.m.
The type of trapshooting described here is known as American or Down-the-Line trap. It is the oldest and most basic, of all the Trap disciplines. American trap is shot over one trap machine which has a fixed elevation but constantly changing angles. The clay target is thrown away from the shooter and must travel between 50 and 55 yards. The height of the target is adjusted so that at a distance of 10 yards from the trap its height will be between 8 and 10 feet. The angles at which the target is thrown (to the left and right of the shooter), is constantly changing and should appear random and unpredictable. The maximum target angle is normally 22 degrees either side of center, but can be a maximum of 47 degrees.
Beginning of Daylight Saving Time in March through end of Daylight Saving Time in November: Every Wednesday at 5:00 p.m.
During standard time in November through March: Every Sunday at 1:00 p.m.
Groups can shoot by appointment by calling 570-951-7105